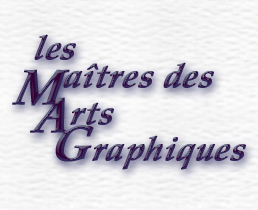 Select an artist to list available works,

and use the icon:
| | |
| --- | --- |
| | to read a full description |
| | to view a large-scale reproduction |
---
Accéder à la version en français ici :


AVirtual
Art Gallery
of Fine Prints
---
---
Exhibitions on Line:
---
Contemporary Printmakers:
---
Fine Arts Books:
---
Old Master Prints:
---
---
This site was last updated
on 30 April 2023


"Les toiles d'Edouard Manet, qui sont peintes du coup comme celles des maîtres, seront éternelles d'intérêt. Vous l'avez dit, il a l'intelligence, il a la vision exacte des choses : en un mot, il est né peintre. Je crois qu'il se contentera de ce grand éloge qu'il est est seul avec deux ou trois autres artistes, à mériter aujourd'hui."
- Emile Zola, Pour Manet




© 2002-2023 M. A. Goetzke