Paul Signac
Original Prints: Lithographs

Inspired by Camille Pissarro* in the early 1880s and following the patriarch's longstanding committment to Impressionism, Paul Signac (1863 - 1935) created the derivative movement of Pointillism with his close friend Georges Seurat; although he produced relatively few prints, his color lithographs are to be counted among the masterpieces of this movement.

With Seurat, and in protest against the conservative Salon des Artistes Français, Signac co-founded the Société des Artistes Indépendants in 1884 , which he presided from 1908 until his death. The political implications here were also apparent, as may be seen in their motto, "Sans jury ni récompense" ["Without a jury or awards"].

As the result too of his long friendship with Gustave Caillebotte, Paul Signac became an avid sailor, which allowed him to pursue his art through a life-long interest in rendering seascapes and port scenes, as with the lithographs shown here.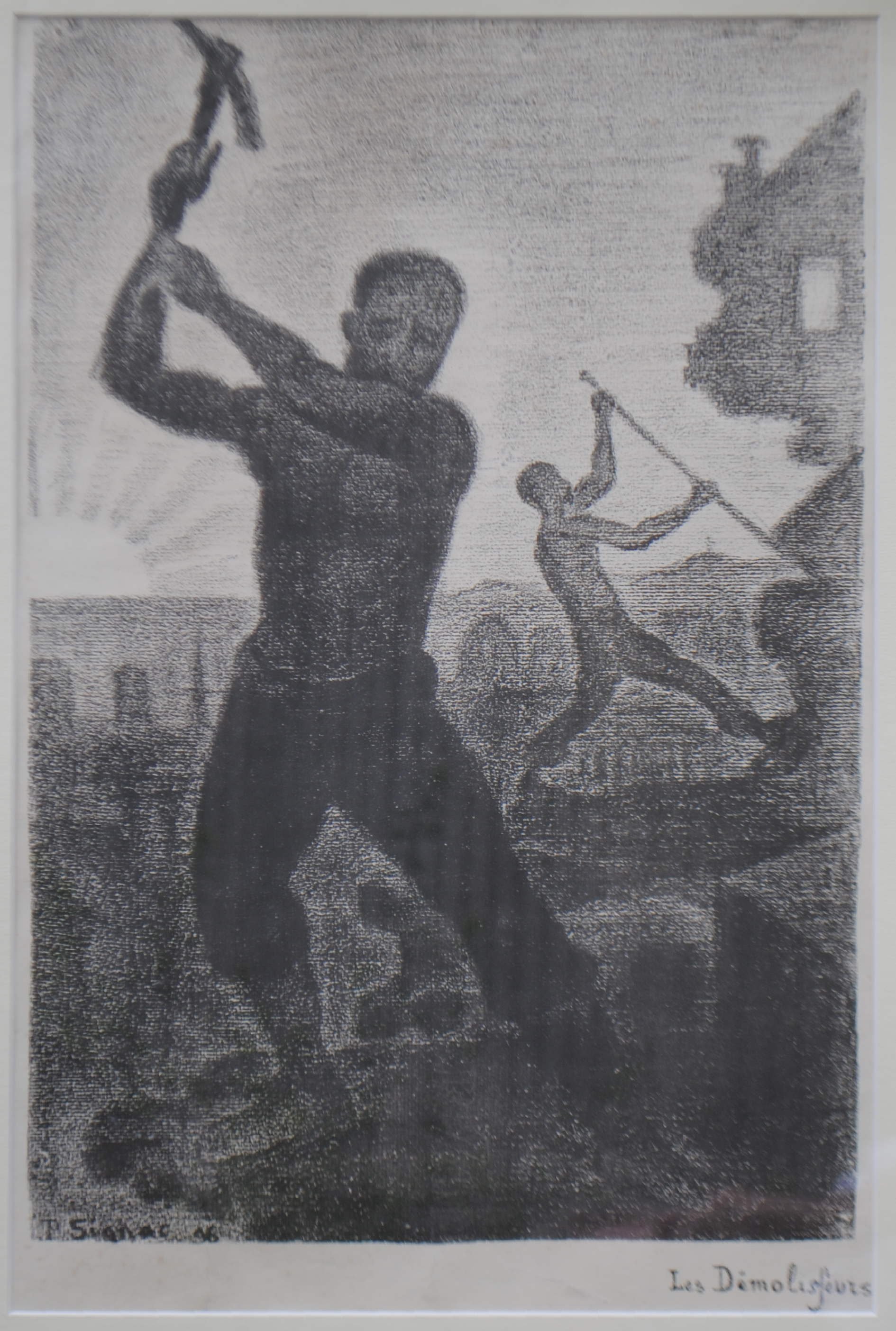 ---
* Pissarro and Signac were also closely linked to the libertarian movement in France, notably Jean Grave's anarchist newspaper, Les Temps Nouveaux, to which they both contributed militant lithographs. Signac's contribution was entitled Les Démolisseurs, (right, Kornfeld 15.II, a rare 2nd state impression, one of only a few impressions before the address, on van Gelder laid paper, private collection, Toronto, Ontario, CA) a forceful composition showing workers diligently dismantling the old world order so as to refound it anew, as symbolized by a rising sun in the background to the left.

En Hollande — La Balise


In Holland — The Beacon


Kornfeld & Wick 8


six-color lithograph, 1894, probably the 3rd state (of 3), signed in green crayon lower right, on fine chine paper, with variant colors (here tending to pastels), trimmed to the edges of the composition, as is usual.


This fine print was Signac's first lithograph for Gustave Pellet, illustrating the port in Vlissingen, on the former island of Walcheren, in Zeeland.







Saint Malo I, II, and III


Kornfeld & Wick 25a, 26a, 27a





lithographs, circa 1927, trial proofs of the only known state, pulled prior to the edition of 26, on medium-weight cream wove paper, with wide margins


These three small prints (only Saint Malo I shown here,

left

) were Signac's last prints, conceived as his contribution to an illustrated album of Stendhal's

Mémoires d'un Touriste,

published in 1927.