En Quarante — Hustling


Delteil 42, Wittrock 32; Adriani 47


lithograph, 1893, on cream-yellow simili-japon paper, the only known state, an exceedingly rare and exceptional trial proof impression, printed in sanguine, signed in pencil by the artist (left), stamped with the artist's red stamp (Lugt 1338) and the Kleinmann Paris drystamp (Lugt 1573), an unnumbered impression, with full margins, one of only two known proofs printed in sanguine, prior to and aside from the edition of 100, traces of old hinges in the margin, verso, otherwise in pristine condition




L. 285x235 mm., S. 462x312 mm.
This is one of a series of twelve lithographs that Toulouse-Lautrec executed for the satirical journal

L'Escarmouche

, for which he explored various theatrical and music-hall themes.

*



The present lithograph depicts a cabaret scene, one of the rare subjects that the artist staged taking place in the audience. A portly older gentleman** in a top hat, seated at a table with a glass of beer, rather salaciously eyes a dour prostitute passing by, hand thrust deep into the pocket of her coat.

The refined graphic treatment of their respective expressions and demeanours is quite remarkable; in a few deft strokes, Toulouse-Lautrecs gives us a candid snapshot, with ethnographical insight to the bustle of late 19th-century Montmartre nightlife, and a refined taste for caricature.

Toulouse-Lautrec was no stranger to the more squalid themes of Parisian night-life, especially prostitution. Here, the real nature of the subject is clearly revealed by the title

"En Quarante,"

which refers to the 19th-century Parisian

argot

expression "mettre en quarante", slang for prostituting.*** Apparently unnoticed in prevous

catalogues raisonnés

(Götz Adriani simply translates the title as

In Their Forties,

ostensibly referring to their ages)

,

though there is a clear discrepancy here.

The only other known impression in sanguine of this exceptional print, according to Wittrock, is held in the Städel Museum, Frankfurt.



---
* L'Escarmouche was a short-lived weekly, founded by Georges Darien, a rather colorful anarchist writer of the time, who later inspired André Breton.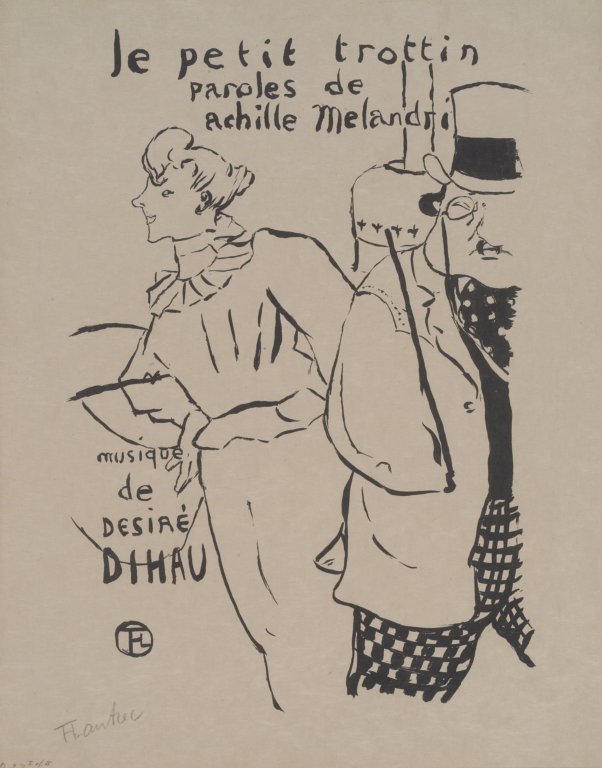 See https://www.entrevues.org/rdr-extrait/lescarmouche-de-georges-darien-novembre-1893-janvier-1894/
** Toulouse-Lautrec had already succinctly caricatured this jowly old gent in a slightly earlier lithograph, Le Petit Trottin, (D. 27, W. 14, A. 36) for a musical score (right), where a passing errand-girl is again ogled by the fellow (ostensibly a portrait of Maurice Guibert, according to Adriani) ... C'est beau, Paris!

*** The reference of this apparently little-known expression to prostitution is found in http://www.languefrancaise.net/Bob/25734
which notably cites the 1911 Journal ŕ Nenesse.