En Hollande — La Balise


Kornfeld & Wick 8


six-color lithograph, 1894, on fine chine paper, a very fine and atmospheric impression, signed by the artist in green crayon (lower left*), trimmed to the composition, as is usual, a very slight discharge of red ink (center), some traces of thinning inherent to the paper (only visible in transparency), otherwise in very good condition

S. 310x406mm.



Provenance: a private Parisian collection
The present impression of this important print is of particular interest as it consitutes a significant color variant, tending to light pastel tones, quite possibly constituting a working proof as the sheet itself is unmounted, as per the edition.

Kornfeld & Wick note that
"...on rencontre des épreuves avec des différences sensibles dans les couleurs."
["...there are to be found impressions with significant differences in colors""].

They further remark that the edition was only irregularly signed and/or numbered...
Paul Signac was an ardent and tireless sailor, from Saint Tropez to the North Sea, and his seascapes make up a major part of his œuvre. There was an important exhibition focussing on this aspect of Signac's art, held at Giverny in 2013, Signac : les Couleurs de l'Eau (see http://www.mdig.fr/sites/default/files/pdf/dossier_pedagogique_signac.pdf)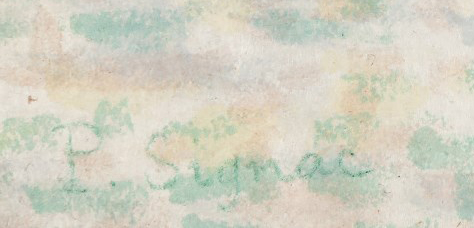 ---
* See a closeup of the signature in green crayon (right), by which Signac sought to blend with composition.

A darker impression with an equivalent signature in the composition may be seen in the MOMA print collection: https://www.moma.org/collection/works/62350?locale=en

Another was sold at Christie's NY on 5-6 November 2002: http://www.christies.com/lotfinder/Lot/paul-signac-en-hollande-la-balise-k-3997393-details.aspx