Vendeurs autour d'un Pont (le Pont au Change),
le Marché aux Fleurs, Paris
[Vendors around a Bridge, at the Flower Market, Paris]



oil on canvas, ca. 1890-5 (?), unsigned, in excellent condition

Provenance: Dr. Albert K. Chapman Collection, Rochester, New York, purchased from the Schweitzer Gallery, with a #7660 inventory reference, which is repeated on the frame*


270x350 mm.

This picture should be considered an oil sketch (as it is unsigned), showing vendors on the flower market in central Paris along the Quai de Corse, and opens onto the Pont au Change in the background. The Pont au Change connects the Ile de la Cité and the Rive Droite, crossing the Seine from the Conciergerie to the Place du Châtelet.

The Marché aux Fleurs has been on operation since 1809, and is one of the busiest markets in the city. It looked something like this in Luce's time: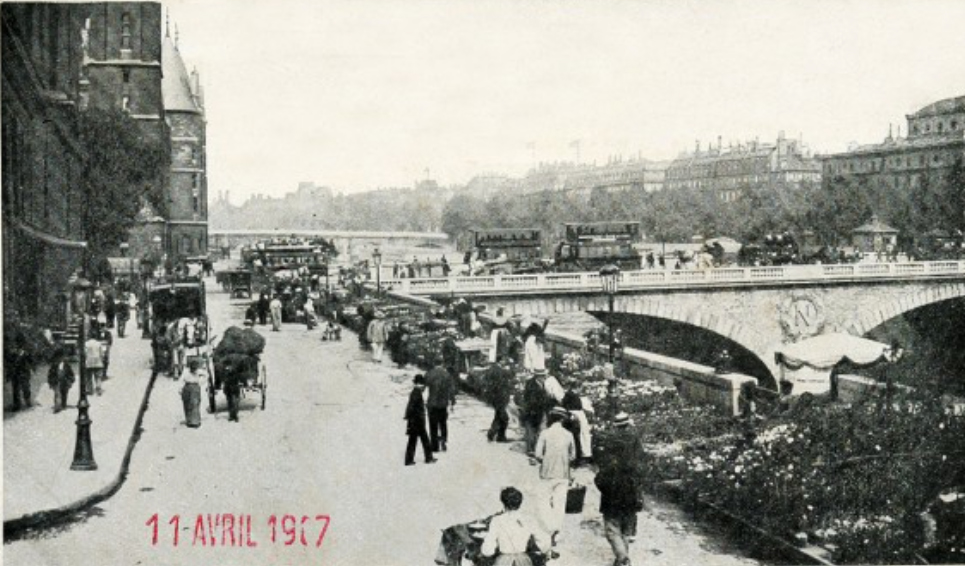 We have estimated the date on both chronological and stylistic criteria: it corresponds to the time when Luce was actively painting street scenes in Paris and Rouen, with a similar impasto technique that mixes pastel tones in hardy brushstrokes to atmospheric effect.**
---
* Albert K. Chapman was the CEO of the Eastman Kodak Company, Rochester New York, and his collection was dispersed on 15 September, 2010 by the auctioneer John Coker Ltd. Here following is an excerpt from the catalogue:





** See for example the small picture sold at Christie's on 21 June, 2018: https://www.christies.com/lotfinder/paintings/maximilien-luce-rouen-le-pont-de-pierre-6152686-details.aspx?from=searchresults&intObjectID=6152686&sid=9d99702f-7b85-4f65-b716-378d50aabcc6