Catherine Nue se coiffant


[Catherine Nude, Combing her Hair]




Pétridès E5


soft-ground etching with drypoint, 1895, a superb impression, with rich drypoint shading over the entire background, and fine reddish-brown highlights in the woman's hair, signed lower right in pencil, annotated "vernis mou" in the lower right corner, on medium-fine laid paper with the "Ingres" watermark*, with good (full?) margins, with deckle edges above and on both sides; the sheet has unfortunately been poorly conserved, with some surface soiling and handling creases, upper left corner folded over, a few inky maculations and circular indentations, some slight foxing, a few pinholes (one of which in the subject) and minor scuffing, otherwise in reasonably good condition


P. 217 x 242 mm., S. 312 x 483 mm.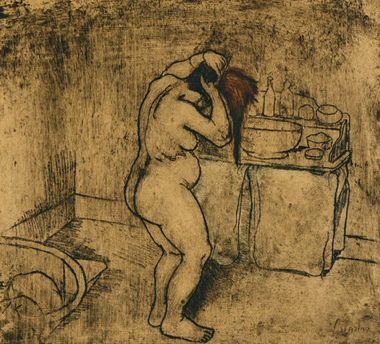 One of Suzanne Valadon's earliest prints, Catherine nue se coiffant is also her first really accomplished soft-ground etching, and her meticulous drypoint shading adds a volumetric effect to this "inner space" that features one of her favorite models.

This is an exceptional early (working/trial?) proof, printed well before the the Daragnès edition of 1932 (in which the fine drypoint shading is practically nonexistent). We have seen one other equivalent impression (right), with heavier inking and similar reddish-brown highlights, on buff paper, sold at Christie's, New York, on November 1, 1988.

(Although Pétridès does not per se identify an early state of Cathernie Nue se coiffant, a parallel may be drawn with his discussion of E10, Adéle preparant le Tub et Ketty aux Bras Levés, for which he identifies a 1st state under a different number, E21 (Marcel Lecomte Collection, Paris), characterised by richly drypoint shading in the background, and printed with attention to fine detail...)


---
* The "Ingres" watermark is in fact one part of a double watermark, to be found in the lower register on full sheets of this medium-fine, somewhat waffly-textured, cream laid paper. The "Ingres" mark may be seen in the lower left corner, whereas the lower right bears the "L'Ecolier / C & F" watermark. The full sheet measures 482 x 633 mm., and is of particular interest insosfar as Suzanne Valadon apparently used this paper for proofing her prints (e.g. the rare impression of the 1st state of Ketty s'étirant, before the plate was cut down, sold by Jean-Louis Picard on June 13, 1996, and described thus :

"Vernis mou et pointe-sèche, en noir bistré, avec teinte de fond, sur vergé crème, filigrane «L'Ecolier C & F», du premier état avant coupure du cuivre, très grandes marges."

There was also an equivalent annotated "Epreuve d'Artiste" impression of Ketty s'étirant, sold by Hauswedell & Nolte, Haburg, on June 6, 2012, with the corresponding "Ingres" watermark, described thus:
"Kaltnadelradierung u. Durchdruckverfahren Auf breitrandigem bräunlichem "Ingres"-Bütten."

See the discussion of our impression of Fille aux Gros Seins et Femme Vieille, E24. As this sheet seems to have been cut in two, like the present impresssion of Cathernie Nue se coiffant, such full sheets are thus exceedingly rare and are of interest for art history, especially as we know little abour Suzanne Valadon's working technique...