Virgin and Child with St Catherine and an Angel holding a Book


Bartsch

not described

(see Bartsch XIX pp.190-3, listing only 4 prints by Luigi Scaramuccia)


etching, 1640-1680, apparently the only known state, on medium-fine laid paper, with narrow margins, some slight foxing, a short crease lower left corner, a faint filiform printing flaw across the mountain in the background, a fine impression of this rare print, in very good condition


P. 132x177 mm; S. 135x180 mm.

Provenance: A German collection, with the collector's stamp "CD" on the backing sheet (not cited in Lugt)
The Virgin and Child with St Catherine and an Angel holding a Book is one of the most moving religious prints of the Italian 17th century, though the reason behind Scaramuccia's revised version is yet unclear.

Rendered as a sort of reversed close-up of Correggio's Mannerist masterpiece*, transformed into an intimate Sacra Conversazione qua Mystic Marriage (see The Golden Legend, by Jacobus de Varagine, the most prominent Medieval version of this hagiography), from which has been removed the lateral representation of Saint Jerome. There only remains the book (as Jerome was the author of the Vulgate), which the Angel holds out (incidentally bearing also the signature of the artist: "Luigi S").

The printings (or editions) of this remarkable etching are not known. We have however located a sole impression of this print in the British Museum, Registration number W,8.35 (?)** This impression is in a darker ink, yet also showing the fine vertical scratches along the angel's left hand...

---

*

Virgin and Child with Saint Jerome and Saint Catherine

, in the

Galleria Nazionale

, Parma (ca. 1523-28, oil on panel, 205 x 141 cm: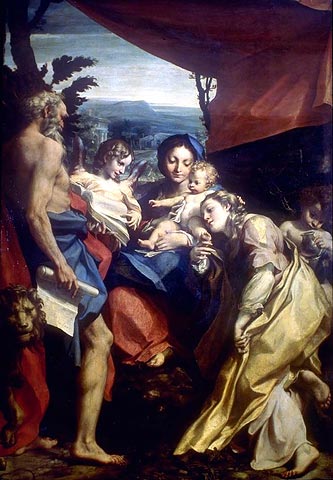 ** See http://www.britishmuseum.org/research/search_the_collection_database/search_object_details.aspx?objectId=1458602&partId=1