Landscape with the Temptation of Christ


New Hollstein (Dutch and Flemish) 2, Riggs 1977 26


etching, circa 1554, a fine impression of this rare print, the only known state, on medium-weight ivory laid paper with the "bunch of grapes" watermark, trimmed outside the borderline on three sides (lacking the latin verse below) and into the composition on the right, two short tears in the margins (top right, which has been gummed, and right edge), trace of a vertical centrefold and old mounting tape on the reverse, slight seepage of reddish ink from the verso and thinning upper right corner, otherwise in relatively good condition

S. 307x419 mm.




After Bruegel's trip to Rome in 1553, he settled in Antwerp and began a fruitful collaboration with the publisher Hieronymus Cock, who was already renowned for the quality of his printmaking.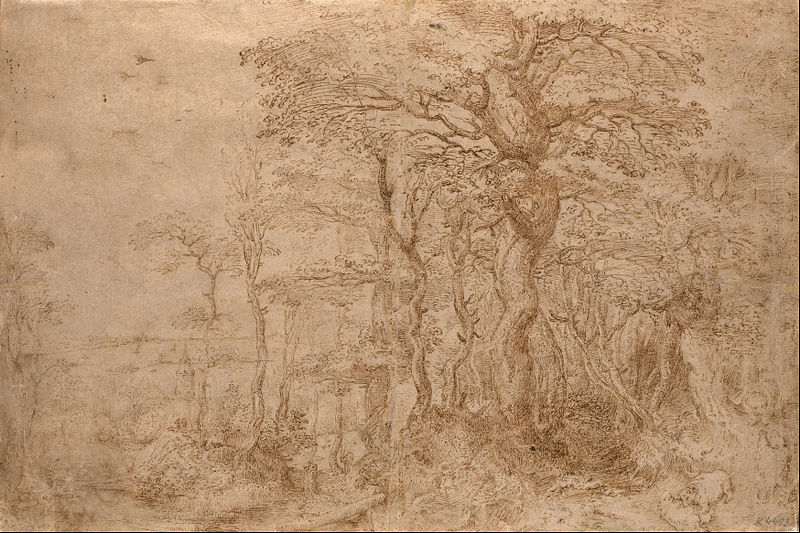 The Landscape with the Temptation of Christ had long been attributed by cataloguers to Cock alone (e.g., it does not figure in René van Bastelaer's 1908 catalogue raisonné): Cock's name appears clearly in the composition (lower left, H. Cock fecit), without that of Bruegel. Though the reasons for this notable absence are unknown, it has been surmised that this resulted from Cock's consideration at this time of Bruegel's name not yet being "a commercial asset".

Bruegel's authorship however came clearly to light with the discovery of an important preliminary drawing, Landscape with Bears (right) in the Národni Galerie, Prague (Inventory No. K4493), by Karl Arndt* in 1966.

The drawing is dated 1554, and as Cock promptly executed his etchings of Bruegel's compositions, it is therefore the first etching that Cock published after Bruegel; more especially, it is also the only print after Bruegel that Cock etched himself. (See entries 15 and 16 in the 2001 Metropolitan Museum of Art catalogue, Pieter Bruegel the Elder: Drawings and Prints**).

Cock's "freely etched image" corresponds quite closely to the Prague drawing, with the notable exception of the five bears, replaced with the moralizing scene of the temptation of Christ by Satan, disguised as a bearded hermit: this is related in the Gospels, wherein Jesus, after his baptism, fasted for 40 days in the Judaean desert, and was approached thrice; Cock shows here the episode where Satan offers a stone, challenging Jesus to transform it into bread so as to relieve his hunger.

---

* See K. Arndt, "Unbekannte Zeichnungen von Pieter Bruegel," in Pantheon 24 (1966), 207-16

** See N. Orenstein (ed.), Pieter Bruegel the Elder: Drawings and Prints Metropolitan Museum of Art, New York, 2001