Le Verger
The Orchard

Roger-Marx 48; Bouvet 56

colour lithograph, 1899, on fine chine paper, a trial proof of the very rare (and undescribed) first state*, with margins laterally and below (like the proof from the Petiet collection cited below), a small pencil sketch of two figures on the reverse, traces of old mounting tape on the reverse, otherwise in excellent condition


Bonnard had aready experimented with five-colour lithography (e.g. La Petite Blanchisseuse) on several occasions, and here apparently sought to refine the chromatic mix (perhaps following Vuillard), by elegantly avoiding recourse to a keystone of the layout drawing in black. The present impression notably shows a vibrant blue replacing the black of the published version, which results in a brighter and more refined composition.

L. 330x355 mm
Renewing certain elements from previous pictures, Le Verger (1895, Dauberville 113) and Le Grand Jardin (1899, Dauberville 01788), Bonnard has developed a bucolic summer scene set in a grove, where two children are playing with a dog, and a woman is carrying away a laundry-basket. The rework in the second state, aside from effacing the register crosses in the margin, concerns refining the drawing on the keystone in the copse to the left and the seated child, as well as shading retouches to the green stone (e.g., blocking out the small clear spots in the copse of trees to the left, or the lawn to the right.

The pencil sketch on the reverse shows two figures, a crouching child and a lanky nude, which may well be other ideas for enlivening the print, although this is unsure: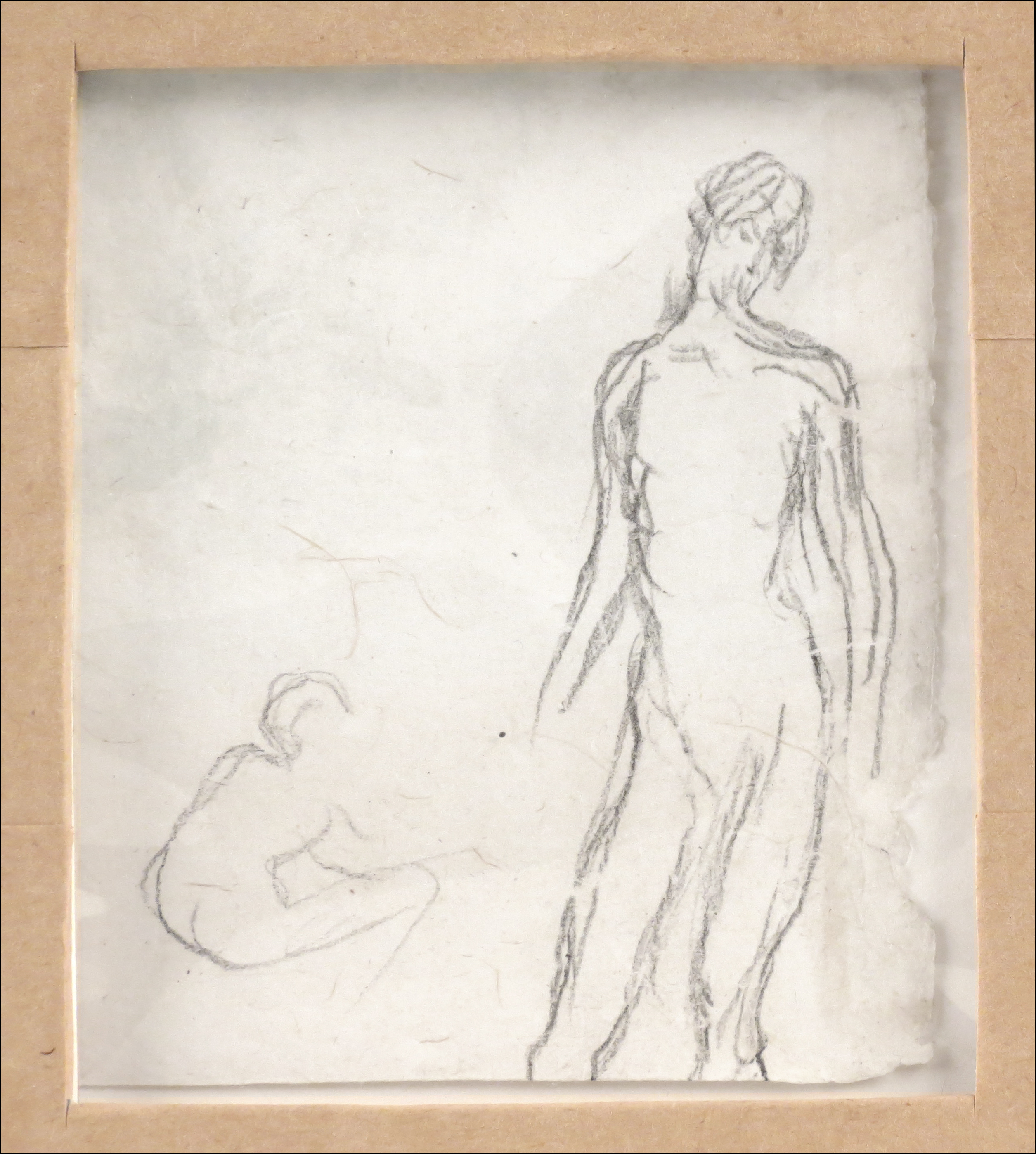 ---
* The only other impression we have seen of this state is from the Henri M. Petiet collection (see the PIASA sale catalogue, XVII:1, 10 December 1998), where this impression is reproduced in colour, showing the black keystone variant of the print. Thus the present impression may well be unique...